Pressed but not Crushed
May 21 | 10 AM - 1 PM
You're invited to gather with women from all five of our Antioch New England churches for a time of equipping, empowering, and prayer. We'll begin our time in worship, hear from a few key speakers, and then attend two workshops on specific topics related to unique challenges we face as women following Christ. We will end our time in small groups to reflect and pray. Our hope is that you are able to feel affirmed as women of influence, as well as make connections with other women for deeper relationships and mentorship to emerge outside of this space. Sign up and find more info here.
Serve Sunday
May 22
Instead of our regularly scheduled celebration service, we will be participating in Serve Sunday with Highrock North Shore and Pilgrim Church! Join us as we serve and love others around Beverly! Sign up for your Serve Project HERE.
Antioch Discipleship School Interest Meeting
June 9 | 7:00 PM
Come hear about the Antioch Discipleship School to see if this is the right year for you. Join our interest meeting on Zoom on Thursday, June 9 at 7PM  to get your questions answered.  ADS combines spiritual formation, discipleship and accountability to help the church BE the church. We're called to love well and make disciples. Is this your year?
Vacation Bible School
June 27 - July 1 | 9:00 AM - 12:00 PM
We are partnering with North Shore Community Baptist Church in Beverly for Vacation Bible School this summer. Spark imagination and kick creativity into high gear at Spark Studios!
Cost: Free!
Ages: Entering Kindergarten through 6th grade
Volunteers: VBS does not work without a great team of volunteers. If you would like to serve, please register to help out!
Find more information and sign up to attend VBS HERE.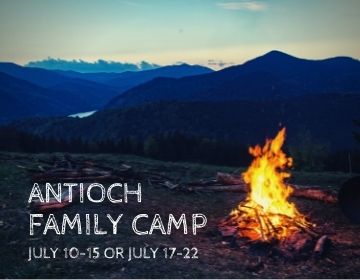 Antioch Family Camp 2022
July 10-15 or July 17-22
Antioch Families!  We may be in the middle of winter, but summer planning is upon us - so save the dates for Antioch Family Camp 2022!  Find more information and register HERE!
Stay updated on any changes in our COVID-response! We send out weekly updates about ways we're meeting together, how to get involved and connect with others. Note: we will never forward your information to third parties, and you can unsubscribe easily at any time.